Long Term Planning for Sister Lakes

Over a year ago residents, business owners and Keeler Township officials formed a Corridor Improvement Authority (CIA). The purpose of this Authority is to formulate a long term plan for future projects to improve our area. The CIA is a legal entity that allows multiple objectives to be accomplished including, seeking grant financing, establishing community needs and projects, providing a forum for residents to contribute their ideas, obtaining professional consultants to assist with political and economic issues. In short, the CIA is the means to accomplish many goals, today and in the future.

Project Example

Residents expressed concerns over the safety issue of walking over the 95th Street roadway where the "tunnel" joins Big Crooked and Little Crooked Lakes. At the same time the county wanted to put steel crash barricades at that location to prevent vehicles from driving into the lake due to the curves and narrow roadway. So with parents pushing strollers and small children walking slowly all competing for the road with vehicles crossing over the "tunnel" a solution is required.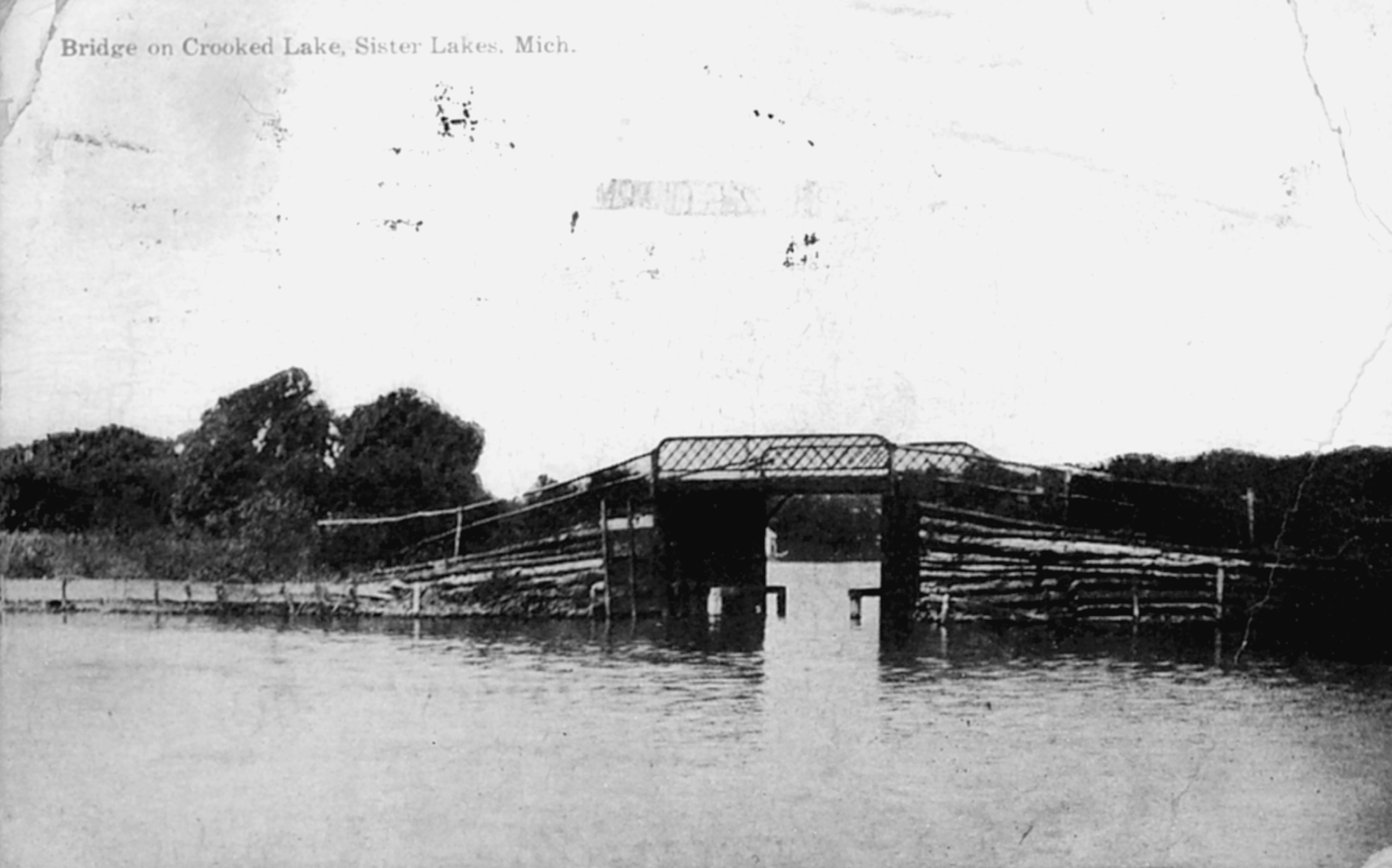 Early log and wooden bridge at 95th Street between Big and Little Crooked Lakes

The county road engineers realized that the crash barriers could not be installed due to the narrow roadway therefore a bridge was suggested as the structure that would provide the ideal way to mount the barricades. As a design progresses a walkway over the bridge would allow pedestrians safer passage. This walkway could also be part of a larger walking path plan that residents requested at earlier CIA meetings.

Further, thoughts were included that would allow the bridge to be designed so that boats and pontoons could pass under the bridge, thus joining Big Crooked and Little Crooked. This appealed to many residents since it would double the shoreline for pontoon cruising and add considerable recreational enjoyment.

The bridge idea was inspired by a recent book published by Arcadia Publishing entitled Sister Lakes available at Driftwood and Chemical Bank. The book has several postcard photos circa 1900 that show the old bridge at different points in time. Big Crooked and Little Crooked were one lake many years ago. On many older maps they only show Crooked Lake. We have printed two of the old photos with the permission of Arcadia Publishing for your information and historical perspective. One theme that might be suggested for the new bridge would be a new bridge with an "old time" look.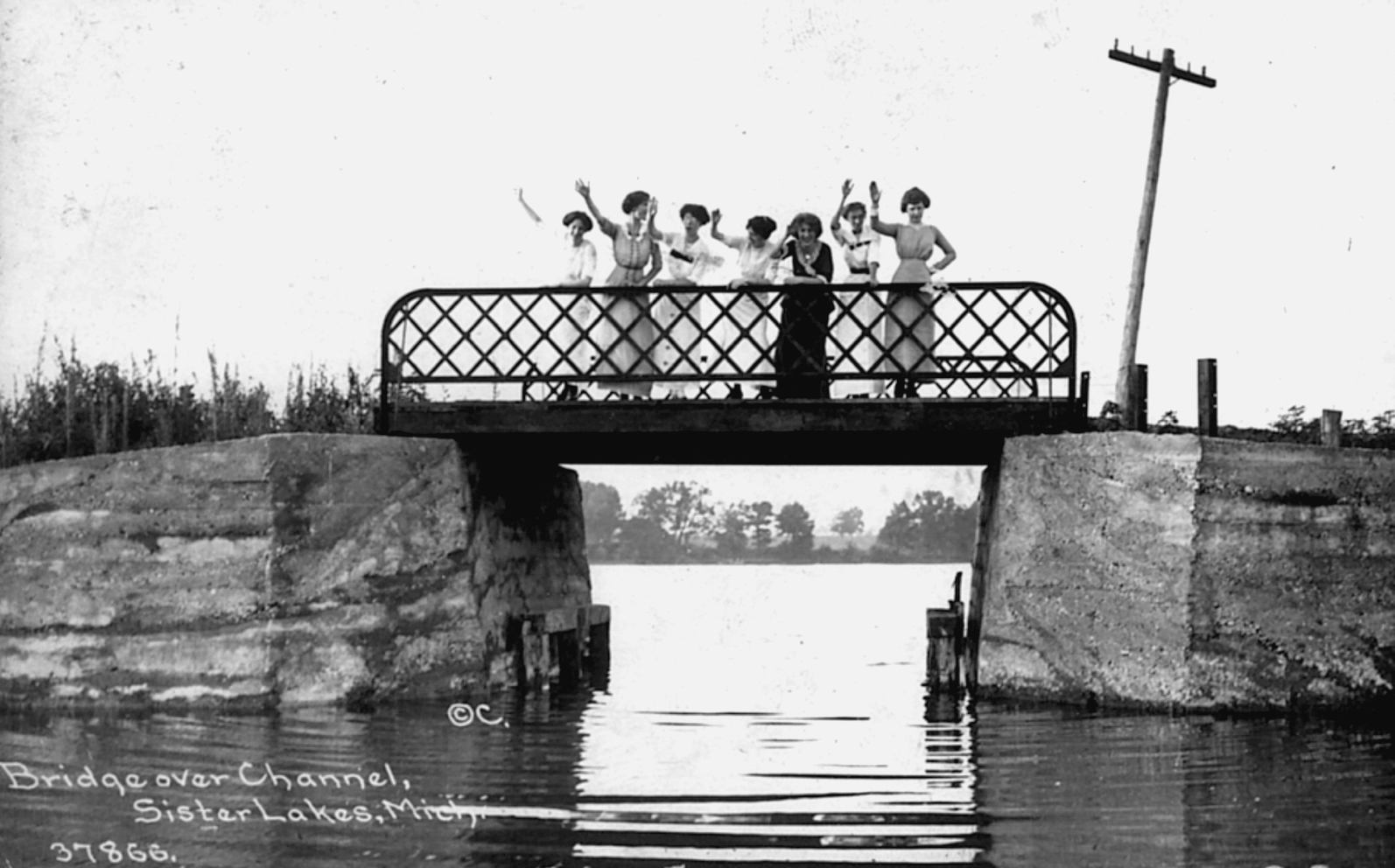 Later concrete and steel bridge with ladies enjoying the summer

The CIA is considering other projects such as walking and bike paths, business facade improvements, drainage projects, streetscape/lighting projects and another bridge to join Big Crooked to Round Lake. These projects are part of a twenty year plan that would require research, resident approval, financing, engineering and informed citizenry.

Go to this website and click PROGRAMS, then click on Sister Lakes Corridor Improvement Authority (CIA). This document is 68 pages and explains the details of the CIA. Pages 61-68 outline the various projects and the associated costs.

The goal of these projects is to improve Sister Lakes and to provide new and interesting community projects that bring safety and recreational possibilities to our community. The CIA holds public meetings at Keeler Township Hall (269-621-6481) next to Keeler Keg and Kitchen and we encourage your participation.