Though the years of the Crooked Lakes Association, CLA, volunteering has been the hallmark of it's existence First the entire CLA Board and officers are volunteers. They also rely on the many additional volunteers that assist them yearly. The passing of petitions, teaching water safety, attending, educational lake management seminars, monthly water testing representation at township meetings and a myriad of other details are attended to by volunteers.
Should the "spirit of volunteering" move you, feel free to contact any of our Board members and give us some of your time.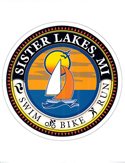 TRIATHLON VOLUNTEERS NEEDED:
We get you and you help the Sister Lakes Community, plus we thank you with a great SISTER LAKE TRIATHLON VOLUNTEER T shirt, and a tasty free lunch.
Call Robin Gulliver 269.487.6806